If you're looking for an Edinburgh Bicycle Tour, you're in the right place! To book your tour, please email info@delltours.co.uk.
Edinburgh is such a great city for cycling! On the Edinburgh bicycle tour, you can escape the traffic of the city centre on a 3 to 4 hour bike tour! You'll get to discover many places unknown to tourists and even locals!
On the Edinburgh Bicycle Tour, you'll witness breathtaking views from the top of Arthur's Seat and much more! This tour lasts 3/4 hours and your guide will be an English speaker. The tour takes place every day at 11am!
Edinburgh Bicycle Tour Highlights
On Your Bicycle Tour of Edinburgh, You'll get to see the Palace of Holyroodhouse!
This is where the queen lives when she comes to visit Edinburgh.
On your Edinburgh Bicycle Tour, you'll get to see the impressive Scottish Parliament Building!
The Scottish Parliament Building is the home of the Scottish Parliament at Holyrood in Edinburgh. Construction commenced in June 1999 and was finished by September 2004. It was designed by a Spanish architect named Enric Miralles. He unfortunately died before it was completed.
The building and its construction have been controversial from the start.The choices of location, architect, design, and construction company were all criticised. It was also 3 years behind schedule when it opened. It caused lots of frustration for many Scots. They also were upset about the final cost of £414,000,000 which came from taxpayers money. This was many times higher than the initial estimates of £10-40m.
Cycle through Holyrood Park
Next on the Edinburgh Bicycle Tour, you'll get to see Holyrood Park! Holyrood Park is a park like no other in the city. Holyrood Park's dramatic hills and crags shape Edinburgh's glorious skyline. The history and archaeology of Holyrood Park span thousands of years.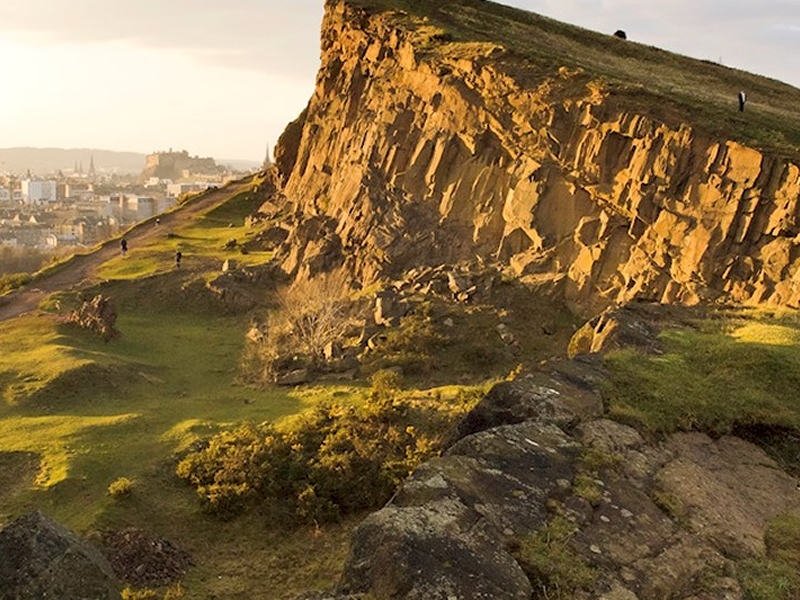 See St. Anthony's Chapel
The only building in Edinburgh's Holyrood Park is St Anthony's Chapel. St Anthony's Chapel could have been an outlying chapel for Holyrood Abbey. It has also been suggested that the chapel served as a religious beacon, designed to be clearly visible for pilgrim's out at sea.
Walk to the top of Arthur's Seat
Walking from the pond to the top of Arthur's Seat is a wonderful experience! You get to witness breathtaking views of Edinburgh! No matter what the weather, the views will never disappoint!
Next On The Edinburgh Bicycle Tour, You'll Go To Edinburgh's Oldest Pub – The Sheep Heid
The Sheep Heid Inn is a premium pub with its very own courtyard. The Sheep Heid Inn is centrally located in Duddingston, in beautiful Edinburgh.
Situated in the heart of Edinburgh, this charismatic establishment was a favourite amongst past monarchs and poets, and today, it's Scotland's oldest Pub.

Go To Dr. Neils Garden
This garden is unknown even by most Edinburgh locals!
Dr's Nancy and Andrew Neil were a husband and wife. They used to love going around Europe on their holidays! They even towed a caravan through France, Greece and Spain! While they done this they collected young trees.
In 1963 Andrew and Nancy started working on the church land. This is when Dr. Neil's Garden was born. Andrew and Nancy liked to encourage their patients to help in the Garden. This allowed them to benefit from healthy outdoor activity and the relaxed setting beside the Loch. You'll be able to understand more when you come here on the Edinburgh Bicycle Tour.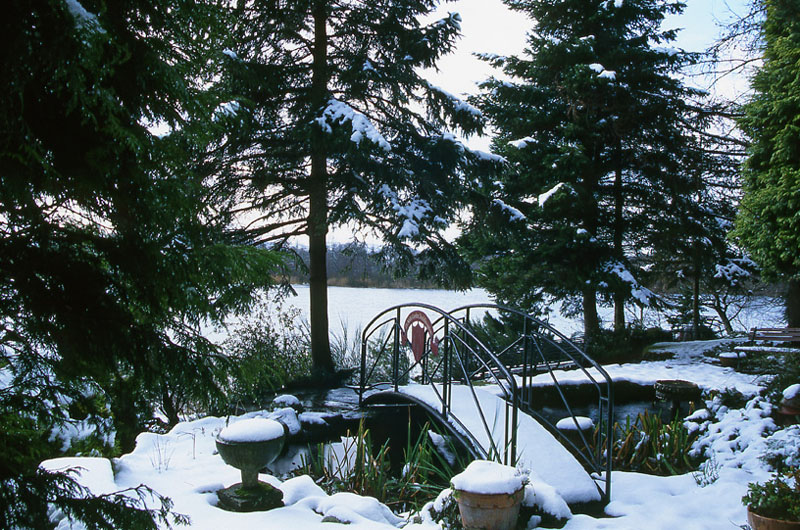 Edinburgh Bicycle Tour – Summary
With the Edinburgh Bicycle Tour, you'll get to escape the crowds and busy streets of Edinburgh's city centre. You'll then get to see extraordinary panorama views of the Sea on the East coast of Scotland and also historic Edinburgh!
Cycle from the Old Town towards the New Scottish Parliament building and Dynamic Earth visitor attraction at the end of the Royal Mile.
Pass the royal Palace of Holyroodhouse and get breathtaking views of the ruins of St. Anthony's Chapel. Next, make your way up the extinct volcano of Arthur's Seat, and continue on foot from Dunsapie Loch to get magnificent views from the summit.
Cycle back down towards Salisbury Crags and get wonderful views of Edinburgh Castle and the Old Town. Continue to Duddingston Loch to discover the secret oasis of Dr. Neil's Garden at Duddingston Manse. Bike back towards the city centre on the Innocent Railway Path. Pedal through Meadows Park and the Grassmarket to arrive back in the Old Town.
You'll get your own bike and helmet and also a wonderful tour guide! Please remember to bring your own beverages!
Prepare for the activity
Meeting point
Meet at 29, Blackfriars Street, Edinburgh EH1 1NB, near the High Street/Royal Mile.
During the Edinburgh Festival, the tour will cover even more locations!
What additional locations are covered during the Edinburgh Festival in August?
Tweedale Court
The Royal Mile
Old Toll House
Grassmarket, Edinburgh Castle
Old Town
The Meadows
If this seems like too much effort, please check out our Edinburgh Electric Bike Tour. It's much easier!
We can't wait to see you on the Edinburgh Bicycle Tour! To book your tour, please email info@delltours.co.uk.